Denios Blog
---
~ Book Store Wanted ~
Attention Book Lovers and Book Collectors ~ Denio's is looking for an entrepreneur to open a book store at the Swap Meet! If you are up for it, call us today at 916-782-2704 or email us at info@deniosmarket.com, attention: Book Store.
Denio's – a 70 Acre Treasure Chest
In an era of Amazon and one-click purchasing, it may be strange to think that people would ever choose to leave the comfort of their homes to make a purchase. Yet each weekend, thousands set down their laptops and tablets, however temporarily, to take a pass or two through the 70-acre treasure chest that is Denio's Farmers Market & Swap Meet.
What is it about Denio's that drives these people out of their air-conditioned homes and into Northern California's largest outdoor swap meet? That's simple; corn dogs the likes of which you have never tasted anywhere else. Golden beauties so good that numerous contestants gather each year for the Corn Dog Eating Contest to sacrifice their next six months-worth of cheat days to the corn dogs' deliciousness. Of course, there's also the fresh produce that has been a staple at Denio's since Jim Denio founded the establishment in 1947. But what started as a single individual's produce stand has expanded to include a vegetarian's dreamland, 2-acres worth of different produce stands that consistently cut grocery store prices by more than half.
But great food is not all that Denio's has to offer these days. New entertainment options are constantly being thrown into the mix; anything from pony rides to zip lines to classic car shows and live music can be found at Denio's, giving every member of the family a reason to get outside and enjoy their weekend away from the computer screen.
And as a family owned and operated business since the very beginning, Denio's always puts families first. There are currently five generations of Denio's today, three of which can be found working in the market on any given weekend. From offering entertainment like petting zoos to wiener dog races and regulating the products that can be sold at the market, Denio's maintains a warm, family-friendly atmosphere that sets the market apart from other weekend destinations.
All American Chili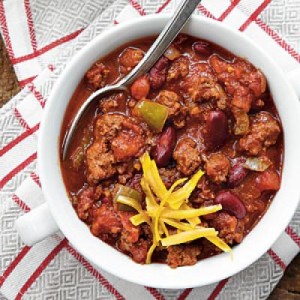 6 ounces hot turkey Italian sausage
2 cups chopped onion
1 cup chopped green bell pepper
8 garlic cloves, minced
1 pound ground sirloin
1 jalapeño pepper, chopped
2 tablespoons chili powder
2 tablespoons brown sugar
1 tablespoon ground cumin
3 tablespoons tomato paste
1 teaspoon dried oregano
1/2 teaspoon freshly ground black pepper
1/4 teaspoon salt
2 bay leaves
1 1/4 cups Merlot or other fruity red wine
2 (28-ounce) cans no-salt-added whole tomatoes, undrained and coarsely chopped
2 (15-ounce) cans no-salt-added kidney beans, drained
1/2 cup (2 ounces) shredded reduced-fat sharp cheddar cheese
Preparation:
Heat a large Dutch oven over medium-high heat. Remove casings from sausage. Add sausage, onion, and the next 4 ingredients (onion through jalapeño) to pan; cook 8 minutes or until sausage and beef are browned, stirring to crumble.  Add chili powder and the next 7 ingredients (chili powder through bay leaves), and cook for 1 minute, stirring constantly. Stir in wine, tomatoes, and kidney beans; bring to a boil. Cover, reduce heat, and simmer 1 hour, stirring occasionally.  Uncover and cook for 30 minutes, stirring occasionally. Discard the bay leaves. Sprinkle each serving with cheddar cheese.
Daily Drive-In Space Promotion… Our BOGO is still going on every Saturday. Buy one regular $25 space or Buy one $50 "pick" space and GET ONE FREE!  BOGO space must be adjacent to purchased space.
Unlike Any Other Shopping Experience
Roseville Chamber of Commerce Insight Magazine,  JULY/AUG '14 ISSUE
Denio's Farmers Market & Swap Meet offers an unparalleled shopping experience. As a Roseville staple their longevity in our community has made Denio's a part of many childhood memories and family traditions. They are much more than a farmer's market and swap meet, just ask anyone who grew up in the South Placer region.
 Denio's has had a long-standing partnership with the Roseville Chamber of Commerce and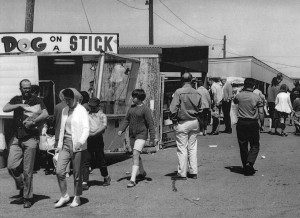 we are proud to call them one of our most loyal members. Coincidentally, the Roseville Chamber and Denio's opened their doors the same year in 1947. Like many businesses from that era they chose to start-up in Roseville due to its growing community containing an attractive agricultural area and convenient location next to the railroad.
Many people who grew up in the area will tell you about their experiences at Denio's as a customer, vendor or employee. Denio's has been many people's first job or families' weekend activity. Their
long-running success is attributed to their solid business practices and their commitment to their employees, vendors and customers. Denio's strives for consistency with everything they offer every weekend which keeps their customers and vendors returning and happy. Ensuring a great experience, Denio's employs a large full-time maintenance crew during the midweek to assure the venue is consistently clean, safe and ready for business every Friday, Saturday or Sunday.
 Stop by this weekend, as there's always something new going on in their market. Their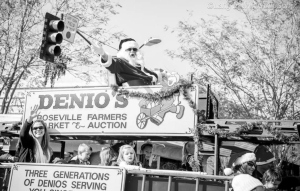 farmer's market can't be beat with more than two acres of fresh produce. Denio's Farmers Market & Swap Meet provides their customers an incomparable outdoor shopping experience. Where else can you pick up everything you need with an ice cold beer and corn dog in hand while doing all your weekend shopping? Spend your weekend at Denio's Farmers Market & Swap Meet!
Take a Peek…Deals at Denio's Facebook Page

Find great deals and promotions from Denio's vendors on our Deals at Denio's page in real time while you're at the market!  See an item you like – don't pass it up!  Go to the space listed and buy it!
~ Here's How ~
From your Facebook page, search Deals at Denio's
Once on our Facebook page, click POSTS to PAGE, clicking POSTS to PAGE allows you to view the vendor's posts about their products and current promotions!
Don't forget to "Like" us on Facebook!
www.facebook.com/DealsatDenios
52% Below Retail
We're proud of our Farmers Market – after a recent survey of surrounding area stores, we discovered that our produce is on average 52% below retail.  We even found that several items were priced as low as 80% below what others are selling it for.
Not only can you enjoy a variety of traditional and specialty produce that can't be found in local grocery stores, at Denio's, the fresh vegetables and fruit is ripe and ready to eat.  No more waiting for your bananas to ripen over a weeks time…. Ripe and Ready to Eat – that's what you'll find at our Farmers Market.
Come out this week and take a peek!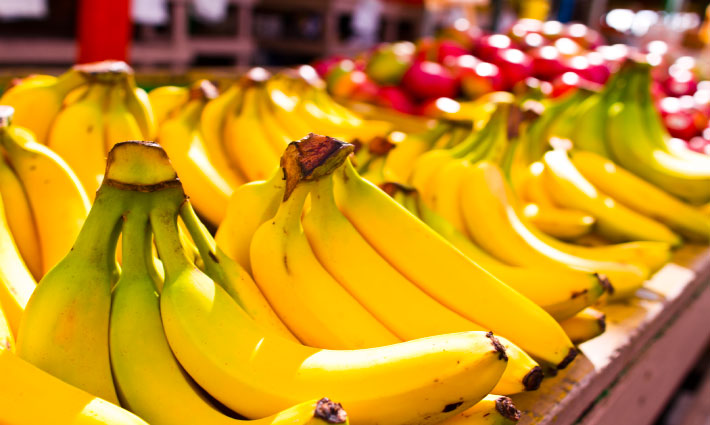 Get Started This Weekend!  Start or Grow a Profitable Flea Market Business
Learn how to:
Maximize your sales by leveraging technology and using up-selling/cross-selling techniques.
Merchandise your booth so that it speaks to your target customer and is organized to encourage sales.
Promote your business without relying on the flea market to bring your customers.
Engage, retain and satisfy your customers.
Find merchandise to resell, set correct pricing and get the highest return possible for your products.
Flea Market Vendor Training Webinar:

Visit VIA TRADING'S Website for more information on product and services they offer:
VIA TRADING'S WEBSITE… CLICK HERE
Denio's does not get compensated in any way, nor accept any form of payment in offering you this information.  We cannot and do not endorse any particular company or business nor do we make any guarantees, expressed or implied, as to sales or service in your dealings with another company; we only make information available to you that may warrant further inquiry on your part.
You'll find it all at Denio's
Denio's Friday Farmers Market
Join us every Friday from 9am to 2pm.  Parking is FREE,!  Enjoy the relaxed atmosphere, stroll the aisles of new and used merchandise – and stop in at the Farmers Market (located on the Z-5 row), for fresh fruits and veggies.  Swing by and have lunch, we have some great Friday Specials!