Available Positions:
NO AVAILABLE POSITIONS – PLEASE CHECK BACK ANOTHER TIME
Apply Now, click HERE
You can apply in person by visiting Denio's on the weekend between 8am and 3pm. The rental office has applications available for you to complete on-site or to take home and deliver at your convenience. The main office, located at 2013 Opportunity Drive, #140, Roseville, will have applications and is is open Mon – Fri from 8am to 5pm.
Are you interested in working at Denio's and becoming a member of our team? The following information is provided to give you the overall sense of who we are, what we do, and why we do it.
Denio's Farmers Market is a customer service organization; we are in the people business. Our entire operation centers on people helping people. Our market has always been a great place for small businesses to get started and develop their clientele. While vendors concentrate on building their businesses we are behind the scenes supporting them.
We provide space for vendors to sell from, we keep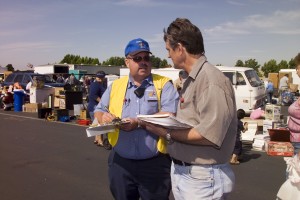 those areas clean and well maintained, we provide parking and loading areas, we provide the advertising, we provide guidelines for the safe and practical ways to set up and operate a selling space, we monitor types of product being sold to insure a family friendly atmosphere, and we provide food services so vendors can continue to run their business throughout the day.
Every service that was initially provided for the vendors soon carried over and became a service to the general public, the customers. To this day, by our strong support of our vendors and their ability to sell, we create an atmosphere that is family friendly and family oriented.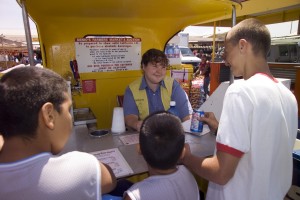 Customer service travels in many directions whether we are supporting a seller, helping a shopper, or assisting a co-worker. We are in this together and we are always looking for those people who know how to put others first. Building our vendor base builds our customer base. Understandably, building our customer base builds our vendor base. Customer service touches everyone.
How do you see yourself in our operation? Have you heard the phrase, "All the world's a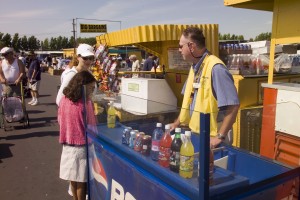 stage?" If you can understand that your role here is similar to that of a cast member in a play, with a script and a costume, then you may find Denio's Farmers Market an opportunity for employment. You see, when you step onto our "stage" and into your "role", you become an "actor" in a well-choreographed "play". And, our play runs every Friday, Saturday and Sunday, rain or shine.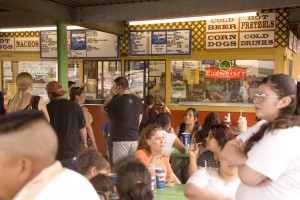 In a facility like ours, where products, sellers, and customers can be constantly changing, representing the diversity of cultures and languages from around the world; correctness of information and consistency in operation are key factors to providing a stable, balanced environment for vendors, customers, and employees.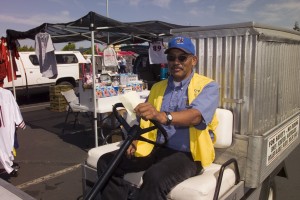 Our team works diligently at acquiring and providing accurate information to our vendors and customers, proactively maintaining our grounds and facilities, serving great food fast – handmade in our own kitchen, and providing a safe and family-friendly facility where an enjoyable (& profitable) day for all is the goal.
We strive to surround ourselves with team members capable of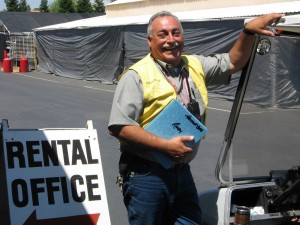 learning, seeing, understanding, and representing the big picture. After all, our height is determined by our depth. The stronger our foundation (our crew), the greater heights we can attain, the better able we are to continue building for the future of the market and raising the bar on new challenges.