High quality and family friendly pricing
At Denio's we take great pride in providing high quality food and beverages at affordable prices. Many of our customers have told us that over the years they have enjoyed the food and beverages we serve at Denio's as much as they enjoy shopping for fresh produce and browsing all of the incredible bargains! We have a variety of concession stands in addition to beer & food carts that are positioned in convenient locations throughout the market. You'll never have to travel far to find the beverage or food item you're looking for. And, everything is extremely affordable! So, you can bring the whole family, or your group of friends, and spend a morning, afternoon, or the entire day at Denio's.
Handmade-fresh, homemade taste!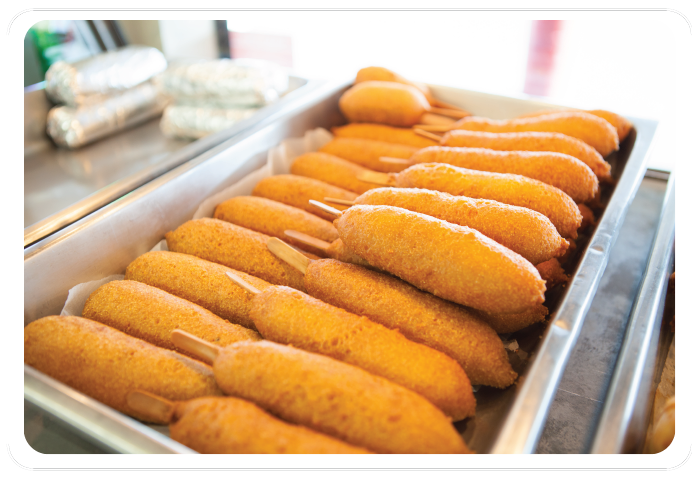 You want fresh corndogs? We prepare every corndog from start to finish, the old-fashioned way (hand-stuck and hand-dipped) so they're always super fresh. Our award winning chili is handmade daily with a top secret blend of spices. All of this is done by our talented kitchen staff right here at Denio's. You won't find frozen corndogs at our market!
Need something a little spicier? Then try our chile verde; everybody's favorite. Or, how about our street tacos; grilled to order and topped with our home style special salsa. Looking for something different? Don't miss our grilled chicken and fresh vegetables; this can be served up over fresh steamed rice in bowl. Maybe our famous grilled, loaded hot link is more your thing?
Even More Options to Delight You!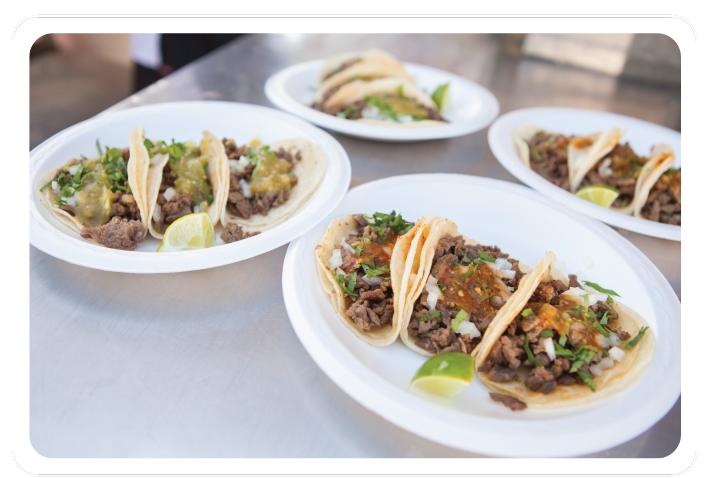 We are excited to offer several additions to your food choice decisions!  MONTIEL'S WOOD FIRED PIZZA – located in the front corner of the food court, just look for the beautiful red-tiled authentic wood fired oven, cooking up your pizza piled with your favorite toppings.  ELI'S TACOS – located right in the middle of the Open X's, not far from the hub of the entertainment.  You can't miss Eli's fun, bright, and inviting truck just waiting to serve her version of Mexican dishes.  Look for the lines!   PINK PAGODA –  Located in the food court, you'll find the best chinese food around!  With over 30 years in the market, Pink Pagoda is a must try.  SANTO ANTOJITO'S – located just off the edge of the food court, the colors of the stand will attract you but the menu of authentic street snacks and appetizers will bring you back … many times!  From icy to spicy, you'll find it here!
And as always, you can "Wet Your Whistle" … for our visiting adults, a cold, spicy Michelada will perk up your day for sure!  Michelada's are available throughout Denio's or visit the Corona Cabana just off the Market Plaza Live and enjoy some live music while you're there!
Whatever your taste buds desire, we can deliver, no need to eat before you come to Denio's!