Denios Blog
---
We have some AMAZING vendors at Denio's and any time we get an opportunity to showcase them we are thrilled! Check out some of our produce, food and swap meet vendors who have been featured on our local news stations! To check out our entire library of videos, subscribe to our Youtube channel today!
The 2022 State of the City Address was delivered on August 26th, 2022 by Mayor Krista Bernasconi at West Park High School.
Roseville residents, representatives from our boards and commissions, leaders in business, education, nonprofits and students gathered to hear about the impact that our Roseville City has on the region.
Denio's Farmers Market was excited to be included in this year's State of the City as one of the many regional destination locations in Placer County!
This picture features some of the people who oversee the fun in our city and make sure that there is plenty to eat, drink and see! CLICK HERE for the complete recap on the 2022 State of the City and to also find out the top 10 reasons why Roseville is the best place to live, work and do business in! Remember #WeAreRoseville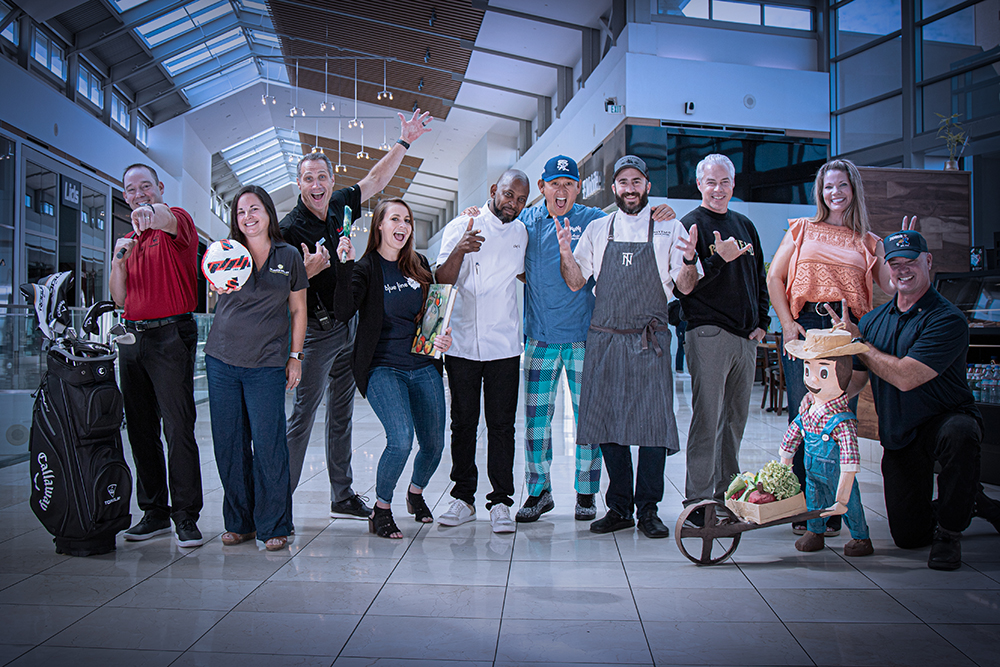 Have you subscribed to our YouTube channel yet? If not, then WHAT ARE YOU WAITING FOR??!!
CLICK HERE to subscribe and view all the newest content happening at the market! Plus, view what might have missed!
There's even some old commercials, featuring our famous jingle! Do you remember the words?
Don't be the last to know what's new at Denio's! Subscribe TODAY!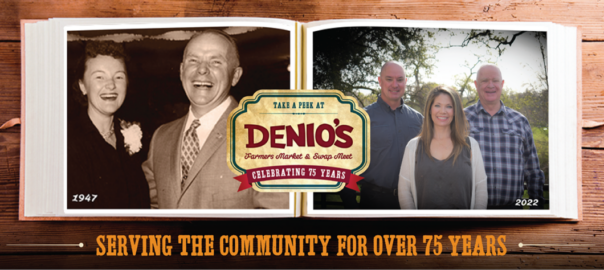 Denio's Farmers Market and the Roseville Area Chamber of Commerce were honored by California State Assemblyman Kevin Kiley at the State Capital in recognition of their 75th Anniversary on Monday, June 27th. Denio's Farmers Market & Swap Meet and Roseville Area Chamber of Commerce were both founded in 1947 and have been huge supporters of each other.  Denio's Founder, Jim Denio was Chamber President in 1959, his son Ken Denio was Chamber President in 1992 and Denio's President Jeff Ronten was Chamber President in 2012 and serves on the Chamber's Political Action Committee (PAC). In 2022, Denio's General Manager Tracie Denio was sworn in as a Roseville Chamber Board of Director, which she is currently serving a three year term on. Both organizations are thrilled by this recognition and are looking forward to serving the community and beyond for many more years to come!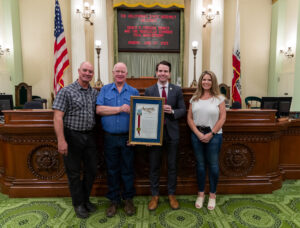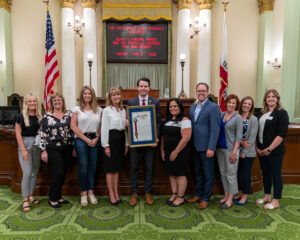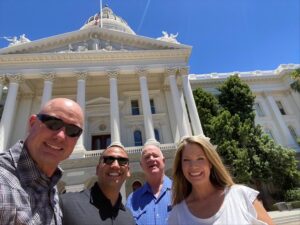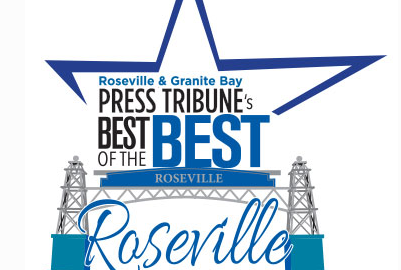 Denio's Farmers Market is so excited to win "Best Day Trip" in The Roseville Press Tribune's annual Best Of The Best 2022! Thank you to the readers and viewers of The Press Tribune for voting for us! For a complete list of winners CLICK HERE!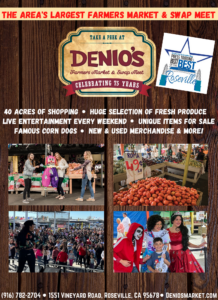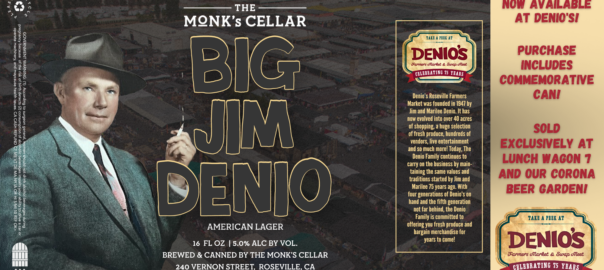 Denio's Farmers Market and The Monk's Cellar is proud to unveil our BIG Jim Denio American Lager! This collaboration between Denio's and Monk's has been months in the making and celebrates Denio's Farmers Market's 75th Anniversary this year!
"The inspiration behind creating this American Lager comes from what beer would have tasted like back in 1947," says Monk's Owner Andy Klein. The label on the can features an image of Denio's founder Jim Denio, known in the community as "Big Jim Denio." Jim's grandson Eric Denio is so excited about this collaboration with another local business, "We were one of the first businesses in the Roseville area 75 years ago and I am hoping that I can keep it going for 150 years!" says Eric.
Monk owners Paul Gould and Andy Klein are both born and raised in Roseville and grew up going to Denio's as children because their mothers used to be vendors at the popular farmers market and swap meet.
The Big Jim Denio is now on draft at Monk's Cellar and on sale at Denio's Farmers Market, your purchase at the market includes the limited edition commemorative Denio's can!  Pick yours up today!!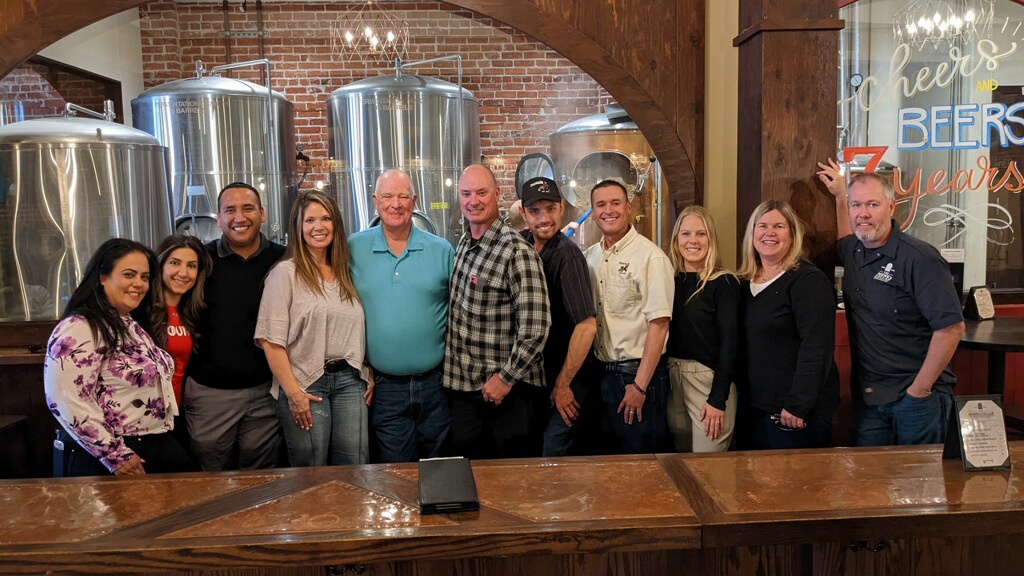 Collaboration Brew Day! Denio's Farmers Market & Swap Meet is turning 75 this year!  To help us celebrate this HUGE milestone,
The Monk's Cellar Brewery & Pub House
has brewed an older style American lager that would have been around back in the 1940's. Monk's owners Andy Klein and Paul Gould are both from Roseville and operate as a family owned business. Andy and Paul have been friends since childhood and grew up coming to Denio's as BOTH of their mothers operated a business in our market for several years! At one point, Andy and Paul even worked at Denio's!
Denio's is SO EXCITED about this partnership with Monk's Cellar and cannot wait for you to try the new beer!Be on the look out for "Big Jim Denio American Lager" in 16oz cans and on draft near the end of March at both Denio's Farmers Market AND The Monk's Cellar! Cheers!
Denio's Farmers Market and Placer Food Bank
We are so excited for our new partnership! Placer Food Bank@placerfoodbank is opening a new PantryToGo site at Denio's Market in Roseville beginning on January 7th, 2022  from 8 to 10 a.m., marking a community partnership 125 cumulative years in the making.  Look for Placer Food Bank to be at Denio's every first Friday of the month from 8 to 10 a.m.
"We're so grateful for the partnership with Placer Food Bank and proud to be able to open Denio's up for this important community service," said Eric Denio, Facilities Manager of Denio's. "We love our city and we want to help make a positive impact however we can."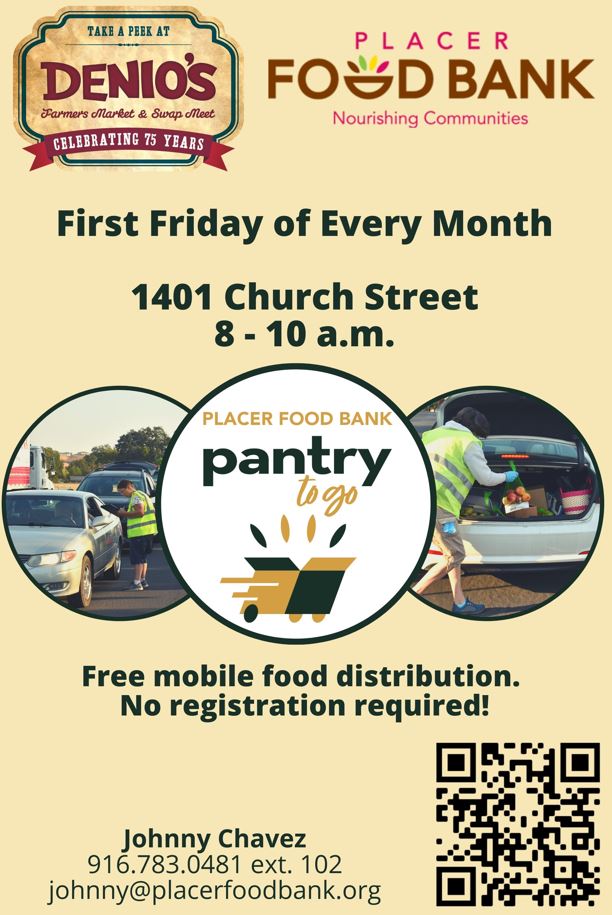 COVID-19 & Shopping at Denio's
IS EVERYTHING OPEN?
Yes, the entire market is open including entertainment!
PLEASE REMEMBER
• Only shop the market if you are healthy
• Do not enter if you have a cough or fever
• Please be patient and respectful when entering and shopping the market