Business Owners
COVID-19 and Vendors
DO NOT COME TO THE MARKET IF YOU DO NOT FEEL WELL.

Start or Expand Your Business at Denio's
For pricing, see "Get Started" on the right-hand column of your screen.  Starting or expanding your business at Denio's is fun, exciting, cost effective, and can be the best business decision you've ever made! Whether your goal is to increase your volume and business exposure or reduce your inventory of closeouts or slow-moving items, or to start a new business, Denio's is the place to be! Just load up your goods and come on out! Thousands of buyers will see your merchandise, and if you price it right, they may just take it home! Plus! You won't have to pay for costly retail space, advertising, or signs. So, come on out to Denio's, and join our successful group of vendors who know that people come every weekend to see " What's new at Denio's!"
What qualifies as a Business?
In addition to the obvious description of a business, anyone who has closed out a business and is storing everything at their residence (say in their garage or personal storage unit); anyone who has purchased items, new or used with the intent of reselling them; anyone who hand-crafts items from new or used materials; anyone who is selling multiples of like-type items (for instance, all lawn maintenance equipment) all of these are considered businesses and require a valid seller's permit.
In addition, anyone who has conducted more than two garage sales in a twelve month period is considered a business and therefore requires a valid seller's permit.
First Time?
Please fill out this form and bring it with you.

Get Started & General details
Get Started!


Vendor Hours
Friday 8:30a to 4:30p
Saturday & Sunday 5:30a to one hour after public closing
Public Hours
Friday 9:00a to 2:00p
Saturday 7:00a to 3:30p & Sunday 7:00a to 5:00p (All Vendors must be open at 7:00a)
Signage & Flyers
If you have banners or signage for your business you are welcome to bring them. Any freestanding signage must be within your space boundaries. Safety is our first concern; properly securing signage is a must. We'll be glad to provide guidelines. Vendors providing flyers to entice business must do so from within the space boundaries. Flyers may NOT be placed on cars in our parking lots.
Space Boundaries
All spaces are clearly defined. Space size is approximately 18×20. Vendors must ensure that all merchandise remains within the boundaries of vendor's spaces to allow clear ingress and egress by customers.  Vehicles may not be left in spaces overnight.
Safety & Sanitation
Denio's (with the help of our vendors) works diligently to maintain a clean, sanitary and safe environment for customers. Vendors are responsible for continuous cleanup and sweeping, out to and including the middle of the aisle, both in the front and back of spaces. It is imperative that walkways and pathways be clear of trash, debris and boxes as well as excess merchandise at all times.


Limits to what you can sell

Our License Agreement covers most items that you can't sell and covers the limits on what can be done. This is provided as a guide only and is not meant as all-inclusive. We reserve the right to request removal of any item(s) or the discontinuance of any service we deem inappropriate for our market.  Vendor's may not bring on to the market grounds, or sell, offer, display, store, handle or distribute any of the following:  merchandise which is offensive, inappropriate, stolen, or illegal or merchandise that violates any copyright, trademark or intellectual property statutes; food items or beverages*; alcoholic beverages to be consumed, sold, sampled or given away; the sale, display or distribution of any printed material, T-shirts, hats, costumes, books, magazines, pictures or other representations of an adult, pornographic or gang-related nature; fortune telling, psychics, hand or tarot card readings or other activities of a similar nature; drug-related or marijuana-related paraphernalia or any item that Denio's deems to be perceived as paraphernalia; guns, ammunition, weaponry, or devices capable of discharging projectiles; gasoline, explosives or any other hazardous items, noxious products or compressed gases. Legally sanctioned games of chance, skill or raffles*.  Denio's reserves the right to inspect all merchandise at any time and the right to have any merchandise removed immediately.
Denio's is highly offended by the sale OR purchase of counterfeit merchandise or merchandise that violates intellectual property rights. Vendors are responsible for the product they bring onto our property to sell, store, or display.  Product must be authentic, licensed, legitimate, and meet all  applicable laws and government regulations.
If you have questions about any products please contact Denio's Management or a CSR team member.
*** Unless approved by management.


Table Rentals

1 Day Rental
$7 per table
2 Day Rental
$12 per table


Sun shelters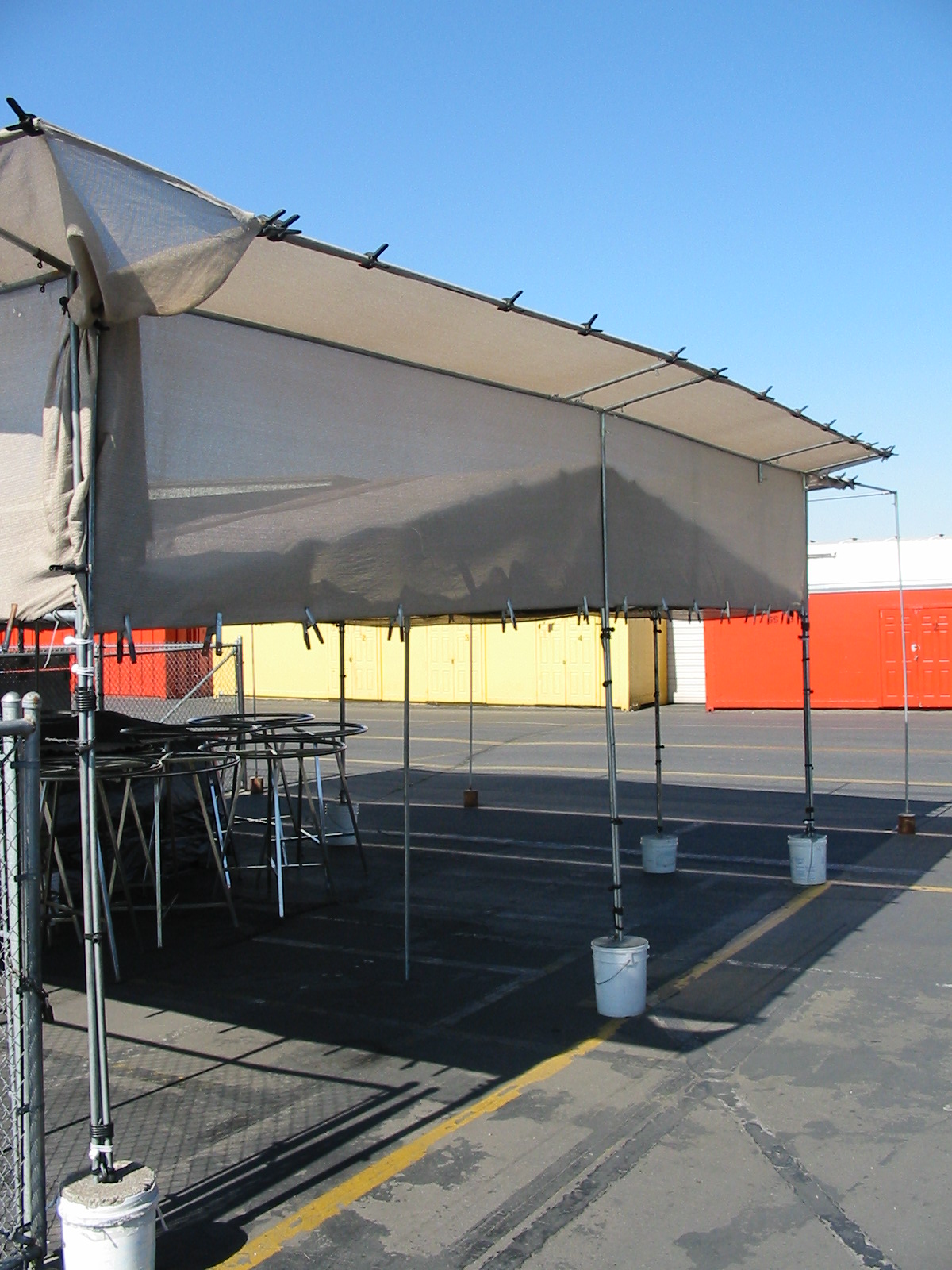 Canopy or shade shelter must be flame retardent as required by the State of California.
Canopy or shade shelter framing and legs must fit completely within the space boundary lines.  Overhangs must not extend more than 24" beyond space boundary lines. All framework, whether pipe and fittings or "pop-up" or "easy-up" style must be constructed in such manner (including but not limited to size, pipe gauge, diameter, additional bracing, tie downs, flat base "feet") as to safely support the canopy material and/or any suspended displays from collapse or movement.
Each leg must have appropriate weights and if the legs are not inserted into a weighted container then a flat base plate (foot) must be attached.  Weights and anchoring systems must remain attached at all times to prevent any movement whatsoever.  Flat bases on the end of each frame down pole are to prevent damaging asphalt.
Properly installed and secured, perforated mesh, allowing airflow is a prerequisite for any canopy and shade shelter material.   Denio's strongly recommends vendors NOT use any solid material (including but not limited to tarps, synthetic or natural fabric, bed sheets, blankets, factory-installed "pop-up or easy-up" tops etc.) regardless of how the material is installed or secured for canopy or shade shelter covering.
You will be held financially liable for any mishaps (damage or injury) that may occur,  including excessive asphalt damage.   Disregard for safety may result in loss of selling privileges.
Safety is paramount and is the reason these prerequisites and recommendations are in place. Denio's, in its sole discretion, reserves the right to require the immediate removal of any canopy or shelter regardless of material or structure for safety reasons.
Insurance

For insurance information, please click here

Space boundary lines

Product and/or shade shelter overhangs must not extend more than 24" outside of white line.  Product outside the white line must be 20" off the ground.  No product or sun shelters beyond any yellow lines.
Gas or electrical equipment for sale

Any equipment capable of cutting into another material must be demonstrated without blades, chains or other cutting apparatus.  No fuels may be transferred from storage containers to equipment.
Gas, electric, or charcoal appliances

Operating any type of gas, electrical or charcoal appliances for personal use or comfort is prohibited, including without limitation, bbq's, refrigerators, microwaves, portable ovens/stoves, woks, hot plates, fans, heaters or other devices of such nature.  All open flame is prohibited. All cooking of any kind is prohibited.
Animals

No live animals may be sold (Unless prior approval has been granted by management), displayed or given away.
Physical contact

No touching, including without limitation, piercing, tattooing, temporary tattooing, face painting, massage, physical examination or salon services without written consent from Denio's.
Merchandise with wheels

If merchandise contains wheels and is capable of being driven, ridden, worn, or remotely operated, then demonstration, use or testing of such merchandise at the market, including all parking lots, is prohibited for safety reasons.
Sale of knives

All knives, swords and related products shall be sold in accordance with the California Penal Code, as well as all laws, ordinances and regulations of federal, state, county, municipal and other lawful authorities.  All knives, swords and related products must be displayed inside enclosed cases, accessible only by the vendor.  Signs shall be posted stating that customers shall be at least 18 years of age to purchase such merchandise, customer identification  must be checked as needed.
Alcohol

Alcohol may not be brought onto our premises.
Trash & Recycling

There is NO recycling of glass, plastic or cans from Denio's trash cans or recycling bins. All trash cans are for the use of public customers, NOT VENDORS. You, as a vendor, are expected to take out everything you brought in: product you did not sell, broken or non-working product, all packing or strapping materials along with cardboard, foam, boxes, newspaper or debris of any sort.  Trash removal is costly. Enforcing trash removal policies may result in fines, billing to accounts or loss of selling privileges. Just Remember….WHAT YOU PACK IN, YOU PACK OUT!
Violations/fines

Fines may be imposed for each violation and/or License Agreement may be revoked.